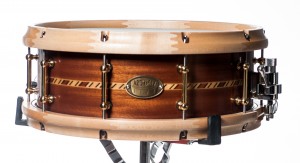 CLICK ON IMAGES FOR FULL VIEW
Our "Gig" series line of drums are comprised of Keller 100% Maple or Vintage Mahogany VSS drum shells. They are adorned with your choice of Designer Ply (finish ply) and are available in several natural finishes or with colors, fades, and bursts. We can also customize your drum with various inlay work, as exampled above. Designer Plies are applied to your 100% Maple or Vintage Mahogany Keller VSS shell using vacuum pressure and a rigid two-part glue, creating the absolute tightest glue-joint possible, thereby precluding any hindrance to the natural resonance of the shell.
The Artisan Designer Ply swatch below represents only a small sampling of the finish plies available. If you don't see the finish ply that you prefer, gives us a call or send an email.  If it exists, we can get it and create your dream snare drum or drum set!
Click on each image to enlarge the sample.
Cocobolo