We are continually experimenting with innovative ideas to address all aspects of what it takes to make a great snare drum and drum set. In an effort to always raise the bar, and through nearly two years of research, our team has come up with an isolation mounting system for use with toms that not only works well, but is aesthetically pleasing.
We set out with a three-fold mission: Achieve maximum tone and resonance, be able to change drum heads "on-the-fly", and make the suspension system strong,  yet attractive, able to blend with the drum as one unit.  Many suspension systems on the market achieve the first issue, and some the second. The Artisan Isolation Mount has accomplished all three.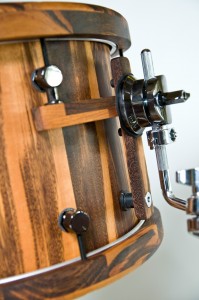 After experimenting with different approaches toward these goals we determined that Artisan Isolation Mount (AIM) met all the criteria. The mount itself is handcrafted out of solid hardwood, either in hard rock maple or the same species as your drum set, per customer request. The horizontal portion of the AIM system is connected to the bottom side of two lugs of the tom tom, or 4 for hanging floor toms, and follows the radius of the shell without coming into contact with the shell. A vertical arm runs the length of and stops against the shell at the nodal point by means of a rubber bumper. This process stabilizes the drum for a very solid feel when played.
AIM is the ultimate system for drum suspension because it is unobtrusive (blending and contouring with the drum), very solidly mounted, and drum heads can be changed without removing the drum from the stand or rack. AIM comes standard with L-rod type mounting (10mm industry standard). Other mounting brackets may be used.
We are proud to offer AIM standard on all of our drums. This innovative and exciting new system of tom suspension is available on mounted toms and hanging floor toms. The AIM system is featured for the first time on our 10th Anniversary Tigerwood Limited Edition drum set. Patent pending.