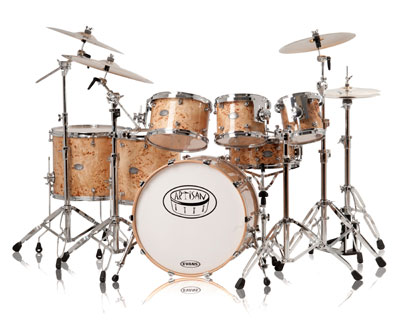 Introducing our new "G" (gig) series and "EG" (exotic gig) series drum sets for 2011!  This 7 piece EG series,  Limited Edition Mappa Burl kit is limited to the production of 10 drum sets.  Your drums will be numbered and include a Certificate of Authenticity signed by the President of Artisan Drumworks.
This drum set features Keller 100% Maple VSS shells with 8 ply toms and 10 ply bass and snare drums, stunningly finished in Natural Mirror Gloss™ over Mappa Burl.  They are fitted with our exclusive solid brass, single point lugs which are designed, manufactured, and plated in the USA.  This extraordinary set of drums will be handcrafted one at a time and come complete with 2.3mm triple flange hoops, isolation mounts with 10mm L-rod tom brackets, RCK snare strainer, German snare wires, and Remo drum heads.  Your 2011 Limited Edition Mappa Burl kit will ship in top of the line Artisan Pro 1 bags, made by Beato USA, and is backed by our Lifetime Warranty!
Drum sizes: 8×8, 8×10, 8×12, 14×14, 14×16, 14×22, and 5.5×14.
KEY FEATURES:
Keller 100% Maple VSS shells (8 ply toms, 10 ply bass and snare)
Mappa Burl exotic finish-ply
Mirror Gloss TM urethane finish
Artisan single point brass lugs, plated in chrome
2.3mm triple flange hoops
Isolation Mounts with 10mm L-rod tom brackets
Suspension floor tom feet for maximum tone and resonance
RCK snare strainer
German snare wires
Artisan Pro 1 bags by Beato U.S.A.
Lifetime Warranty
2011 Special Edition Mappa Burl Drum Set- $5,495.00 (one left)