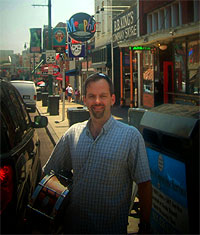 My name is Curt Sines, the President and Founder of Artisan Drumworks Inc.  I am a working professional drummer and have been playing drums for over thirty years and teaching privately for nearly 20 years. I began playing drums at the age of eleven in Canton, Ohio where I studied privately for several years and performed in middle and high school concert bands, jazz ensembles, marching bands and state solo competitions.   As a teenager, my brother and I formed two bands that toured the North-east Ohio region performing at teen centers and community theaters and cut two original tracks in the studio at Gatusso's Music.
After entering the U.S. Navy in 1984, I pursued my passion for music and auditioned for the United States Navy Music Program. I was selected and graduated from the Armed Forces School of Music.  For twenty years I enjoyed touring the globe as drum set instrumentalist/vocalist and performing for thousands at public concerts in big bands, show bands, dance bands, rock bands, jazz ensembles, marching bands, orchestras and patriotic ensembles.  I have played in a large variety of musical contexts,  recorderd in a number of studios, and continue to be involved in music as a freelance musician as well as in music ministry at Bellevue Baptist Church, Cordova, Tennesee as the Director of Percussion and principal percussionist/drum set instrumentalist.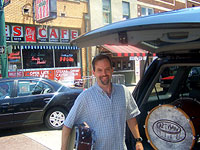 During a tour at the Pacific Fleet Band, Pearl Harbor, Hawaii I developed the beginnings of a life-long passion of handcrafting custom drums. In a search for the sound and uniqueness I was longing for, I purchased some indigenous Koa wood from a local supplier. After completing my first snare drum, located on the Products Page, the passion for handcrafting these fine instruments ignited. During my last Navy tour while stationed in Memphis, Tennessee, my purpose to handcraft unique, quality snare drums and drum sets only grew more intense. While continuing to gig, teach and record, I fashioned a workshop and persistently honed my techniques and Artisan Drumworks' proprietary processes until I achieved the high standard of quality, beauty and performance I desire, as a player and a craftsman. It is our desire to pass our discoveries, developments, and achievements through our drums on to you.
Artisan Drumworks… from one craftsman to another.